Local Angler prepares for 2005
CITGO BASS Federation Championship in Florida
Wil Wegman
Ontario Bass Federation

While many Ontario Bassmasters are still watching the ice slowly disappear from their local lakes, Bill Todd of the Barrie Bassmasters club has already spent nine days prefishing Lake Toho near Kissimmee Florida so far this year. Bill qualified for the Citgo BASS Federation Championships last September when he placed 1st on the 12 person Team Ontario in South Dakota at the Northern Divisional Championship tournament. He leaves for this World Championships of amateur bass fishing on April 25th and competition begins April 27th and raps up on the 30th
Bill will represent Ontario and Canada when he competes against Federation Champions from 46 US states, the District of Columbia as well as from Zimbabwe, South Africa, Italy, Mexico and Japan. He will fish not only for the most coveted title in amateur bass fishing - "National BASS Federation Champion", but for a birth to the 2005 Bassmasters Classic.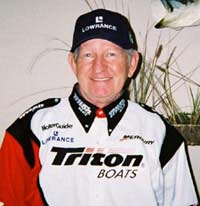 The top federation angler from each of the five divisions will go on to fish the upcoming Bassmasters Classic this summer in Pittsburg against 45 professional bass anglers who qualified thru various BASS circuits over the last year. This prestigious event is the Stanley Cup of professional bass fishing and Bassmasters are indeed fortunate that they have an opportunity to compete on even footing against the pros at this World Championships.
When asked what his prefishing was like, the 60 year old Todd remarked "Quite good - I was fortunate enough to catch 32 bass over those nine days - including a big 7 ½ pounder as well. I was able to begin to learn the big waters of Lake Tohopekaliga and Lake Kissimmee enough so that I feel confident going into the tournament. I hope to be able to get 8-10 pounds each day and maybe even a giant kicker or two." For the first time, the elite Federation field will be reduced from 55 to 15 for the final two days which will take place on Disney's Bay Lake, home to a tremendous bass fishery that tournament anglers rarely get to experience.
Also competing in Orlando during the Nationals will be Samantha and Shauni Voisin who will represent Ontario at the Casting Kids Championships. "On behalf of the entire Ontario BASS Federation, I'd like to wish Bill Todd and the Voisin sisters the best of success as they head down to the Federation Championship. I know they will do all Canadian bass anglers proud as they represent this federation while in Florida, "said OBF president Ken Hamilton.
Question and Answer Interview with Bill Todd By Wil Wegman, April 20, 2005
OBF's 2005 National Contender Bill Todd spent nine days prefishing in Florida from March 19 to 27 th for the Citgo BASS Federation Championships. We caught up with Bill before he left for Florida again on April 25 to compete in the National Federation Championship on April 27-30, 2005 and asked him about his pre-fish. Here is that interview:
Q. What lakes will you be competing in at the upcoming Citgo BASS Federation Championships Tournament near Orlando Florida on April 28-30?
A . The tournament waters are Lake Tohopekaliga (Toho) and south to Lake Kissimmee, including Lake Cypress and Lake Hatcheha. There are several smaller lakes connected between the two main large lakes that we can fish too but we can't go south of Kissimmee. There is only one lock I believe and that is at the bottom end of Toho. Toho is about 12 miles long and Kissimmee 16 and total travel time to the bottom of Kissimmee would be over an hour including the lock. All the canals are wide and do not have any speed zones. Of course this is the first year where they will have a cut … so after the first two days the top three anglers in each division, 15 in all go on to fish on Bay Lake right in Disney World. That should be really interesting and totally new waters for most that make it that far.
Q. What lakes did you focus on during pre-fish?
A .I fished a couple of days on Toho trying to get bit closer to the launch area but was totally unsuccessful. Lots of pickerel but that was all. These fish (members of the pike family) do fight better then our pike although they almost look the same. I spent the rest of my time on Cypress, Hatchineha and the upper end of Kissimmee. The lakes are very shallow with weeds of one sort or another down to 4 or 5 ft. The water is very stained with visibility at two feet or less.
Q What type of conditions did you face with while you were there?
A . The major problem facing all competitors during this practice period was the fact that there was a full moon on the Thursday which meant there was a large staging period (prior to the spawn) of fish early in the week and fish moving to the beds a couple of days later.
Q. So couldn't fishing for those pre-spawn or even spawning fish during your pre-fish actually do you more harm than good for the actual tournament in late April?
Yes … and therefore I didn't target those fish believing that any patterns focusing on them would be of no use to us when we return. One competitor I know was so convinced that the staging fish were for real he went home on Friday. By Saturday you couldn't buy a fish where he was fishing.
The big fish I caught (7 1/2 lbs) was a staging fish and every-one I knew had caught at least one big fish, all on a staging pattern. I caught at least one fish a day and ended up with 38 fish over the 9 days although that included 12 on one day.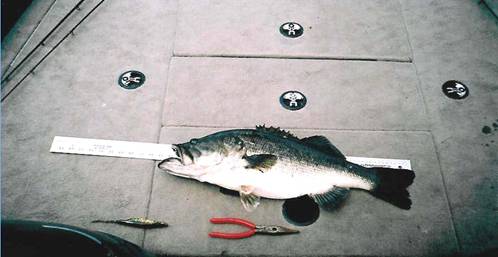 Bill managed to take a quick photo of that 7 ½ pounder that measured 24 inches long before he released it
Q . Are you confident going into this tournament?
A. I am very happy with what I have figured out, having an area that I feel confident that I can get a limit of 8 to 10 lbs and another pattern where I should be able to get a better fish or two. Unfortunately I discovered the second pattern on the last day and after two fish and one miss in a couple of hours, while running to another area I was flagged down by a boater who was broken down. I towed him in which took over an hour and then got driven off by wind and thunderstorms.
A . Here in Canada, no bass tournament circuits limit the number of rods or tackle you can use in a tournament. But in many Championship BASS events they do. Could you please explain those restrictions and what you think they will mean as you prepare to head south.
Q. We are limited in the amount of tackle we can take. 10 rods and 12 reels and two tackle packs. We are not allowed to have any other tackle in our rooms nor are we allowed to buy or receive any tackle unless we get it from another competitor. However I have always done best when I limit my options and have my tackle pretty well packed and have lots of room left over. It is a challenge however, to pack for one system you know and one which you know basically nothing about. The weeds are quite substantial there so I have packed three reels filled with 50 lb braid and one with 30 lb braid and I think they will be used a lot, as the weeds all seem to be much tougher then we are used to.
Q. For the first time the BASS Federation Championship will have a cut system, where some anglers don't qualify for the final rounds. Could you please explain how that will work and how it may … or may not benefit you?
A . We all fish two days on Toho and the connecting lakes and then the top 3 from each division move to Bay Lake in Disney World. News this week is that the weights will be zeroed after two days and we will start new on Bay Lake. This is very positive for me as I only have to catch enough to qualify for the finals and having that limit spot is much more valuable. Although there are some huge fish in the system the results from prior tournaments show that a bag of ten pounds will keep you quite near the top of the results.
Q. Have you ever fished any BASS tournaments in the US before and if so how have you made out?
A. Yes … I have fished a total of 7 events as an amateur for BASS and of course the Northern BASS Federation Championship last September in South Dakota. My experiences in the US have been a great help for me in forcing me to adapt on a moment's notice to new waters. When you fish as an amateur the pro has complete control and so he drives the boat to an area and you look at the water and have to decide how to fish it. Then sometimes an hour or so later it is off to a completely different pattern. I have been fortunate enough to have cashed a cheque in six of the seven events - with two top ten finishes.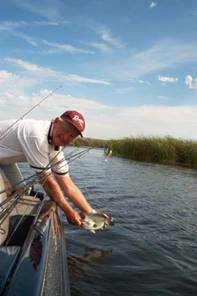 Bill Todd shown here releasing a bass caught from Lewis and Clark Reservoir, while he was in South Dakota prefishing for the BASS Northern Division Championship in Sept. 2005. By placing as the top angler on the 12 man Team Ontario, Bill earned a birth to the 2005 Citgo BASS Federation Championship in Florida April 27-30, 2005
Notables : Bill Todd is 60 years of age lives with his wife Jo-Ann on beautiful Orr Lake just south of Midland in the village of Orr Lake . He has fished all of his life and all over Canada. He has competed in tournaments for the last 15 years. Bill is treasurer of his club – The Barrie Bassmasters and of the Ontario BASS Federation. He drives a Ranger bass and guides part time.