Fluorocarbon Line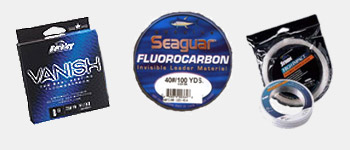 By Dale Hainer
TFN Reporter
The buzz word on the water and in area sport shows this year has been Fluorocarbon fishing line. Fluorocarbon line may look the same as most monofilament lines above the water but once its submerged, Fluorocarbon becomes as invisible as it gets… and that means more fish on your hook! The top emerging names in Fluorocarbon fishing lines is Seaguar, Berkley Vanish and Stren High Impact.
Fluorocarbon is a polymer consisting of fluorine that is chemically bonded with carbon. According to my friends at Berkley, makers of Berkley Vanish Fluorocarbon fishing line, "Fluorocarbon has unique properties as it is inert, so it resists deterioration by most chemical means, such as sunlight, gasoline, battery acid or DEET (a common ingredient found in insect repellents), it has a density of 1.6 meaning it is heavier than water and sinks, and is tough against rocks, docks, etc, it has a refractive index (an indication of the degree at which light refracts or bends as it passes through a substance) of 1.42 which is almost the same as water. Finally, it is non-absorbing, meaning it will not absorb water".
Some monofilament lines are porous and can absorb water making them up to 15 percent weaker when wet. Stren, the maker of Stren High Impact Fluorocarbon leader material says "In addition to being waterproof, our Fluorocarbon leader material is impervious to the sun's damaging UV rays. Ordinary monofilament can forfeit nearly 40 percent of its strength after prolonged exposure to direct sunlight. What's more, this ultra-premium fluorocarbon is crystal clear right off the wheel or coil and will maintain its superlative clarity. It will not tint or "yellow" as inferior grades of fluorocarbon will".
With a refractive index nearly identical to that of water, Fluorocarbon virtually disappears when submerged. Simply put, notoriously line-shy species such as Rainbow trout, Brown Trout and Crappie won't be spooked by the connection when they zero on the fly or bait.
Fluorocarbon certainly would offer the best advantage in clear water situations where fish are heavily pressured or slow to bite. Fluorocarbon offers other advantages below making it an excellent fishing line for other situations and conditions. With superior wet strength to monofilament, it will not weaken or increase in stretch like nylon fishing lines will. Remember that the added density makes fluorocarbon very abrasion-resistant, making it ideal for fishing in rough conditions such as logs, rocks and docks. Fluorocarbon also sinks, which will enable lures to dive deeper and faster than nylon fishing lines. Fluorocarbon stretches slower and less than nylon, particularly when compared to wet nylon, making it much more sensitive to those ultra light biting fish.
Sound too good to be true? Here are a couple of disadvantages to keep in mind. As castable as some fluorocarbon line may be, according to the Berkley folks "all fluorocarbons are still stiffer than nylon, even when wet. This requires more attentiveness to the line when casting, and finer "balance" of tackle. If heavier fluorocarbon line is used on lighter rods, reels and lures, anglers will experience more difficulty".
Personally, I can see advantages especially in using fluorocarbon line as leader material on my float rigs and again as leaders attached to monofilament lines when fishing for panfish such as the severely spooky Crappie. It will be very hard to get me away from my ultra limp, ultra soft, low memory, castable fishing lines on my spool. But the ends... the leaders can always be improved upon and I believe this is it.
Available for area sportsmen in 2 to 20 pound test and in specialty shops or special order up to 400 pound test line by some manufacturers. Seaguar, Berkley Vanish, Stren High Impact Fluorocarbon and a few others will surely put more bites on you in tough fishing situations!